Weight Loss Exercises To Get Rid Of 1.4lbs Fat Per Week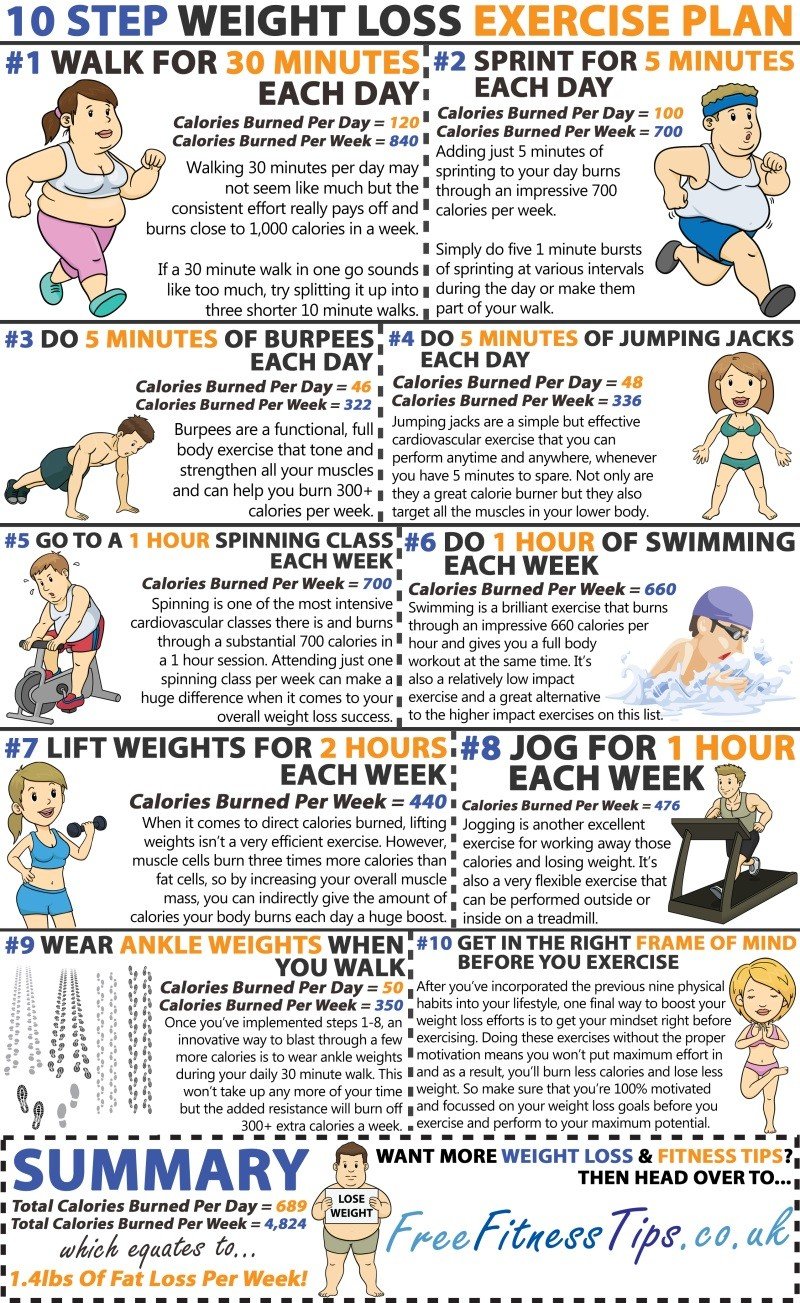 Weight Loss Exercises
Losing weight by changing your diet alone is possible but if you really want results than you need to learn some weight loss exercises. Adding weight loss exercises to your healthy diet will help you shed the pounds the fastest.
There is some good news about weight loss exercises! You do not have to be in the gym to get your exercise and you do not have to work out for hours on end! You can take some very simple "steps" to start losing weight today!
Walking
Walking is one of the easiest ways to exercise you can walk through your neighborhood or you can walk on a treadmill but if you have not had an exercise regimen in place for awhile walking is the best way to get started.
Pick Up The Pace
Once you have gotten back on track by adding some walking to your day you can pick up the pace. The quickest way to lose weight is to do some cardio exercise. Cardio exercises are any exercises that get your heart rate up.
Running, spinning, aerobics, dancing, swimming all of these exercises will help you to burn up the fat that you want to get rid of. You should always check with your doctor before you start any regular exercise program.
Alternate
A good weight loss exercise regimen will include alternate exercises. Breaking up your routine will do your body the most good. Adding some light weight lifting will help to tone your muscles and quickly burn fat.
You can exercise 30 minutes per day 4-5 days a week and see results quickly. You can expect to see a real difference within 3 weeks. You will start to lose inches all over by alternating your workout routine.
A good way to alternate your work out routine is to focus on different body sections. For example Monday you can work on your lower half by running/jogging/walking and using some light weights and Tuesday work your upper body with light weights AND do some aerobic exercise to get your heart pumping. Wednesday can be a rest day Thursday and Friday you can switch things up by working on your lower than upper body. The main goal is to make your exercise regimen interesting and fun.
If you want to lose weight quickly and make the lifestyle changes that count than you have to add weight loss exercises to your lifestyle!
Weight Loss Exercises Infographic