How To Use Turmeric For Any Kind Of Skin Problem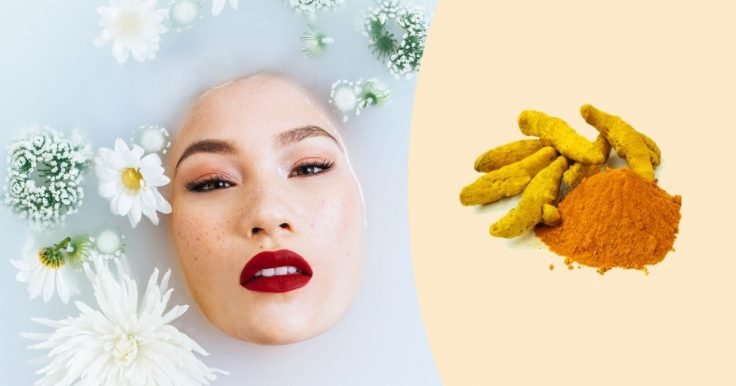 Knowing the right way to use this beautifying agent is the secret to obtaining flawless skin. Here is everything about how to use turmeric for skin.
Blackheads, tanned skin, blemishes, and acne! All these are third-world problems of today's women who try their best to safeguard their skin.
You might go on saying that it is only the inner beauty that matters but I think it is a kind of paradoxical statement. Because who wouldn't want beautiful, glowing, soft, and flawless skin?
But, if you have been visiting your nearby beauty parlor to get all sorts of skin treatments done, let me disclose to you one best ingredient that can fight all kinds of skin problems and save those extra bucks for you!
Turmeric – One Ingredient For Multiple Skin Problems!
If your skin is dry and itchy, you need an ingredient that soothes your itchiness and moisturizes your skin.
Turmeric has anti-inflammatory properties that nourish your skin in the best possible way!
If acne has been troubling you, there you go! You can use turmeric as the best remedy as it reduces the excess oil production on your skin and helps your skin in maintaining a perfect pH.
If you have a fairer skin complexion, I can totally stand by you and understand what happens to your skin when it gets exposed to the sunlight. Red spots and blemishes get highlighted only to ruin your beauty.
Turmeric has antioxidant properties that can fight the free radicals on your skin to reduce blemishes. And trust me, you will never again hesitate to go out and enjoy the warmth of the bright sun rays.
Here is a list of 6 amazing skin benefits of turmeric if you need more details on how it can fight skin problems.
Some Best Ways To Use Turmeric For Skin
One caution: turmeric is undoubtedly the best ingredient that fights all the skin problems but the secret to achieving flawless skin depends on how you are going to use it.
Not all skin problems can be treated by simply applying a single face pack prepared using this amazing ingredient.
Here are some of the best home remedies with turmeric for skin problems:
1. How To Use Turmeric For Acne?
Don't worry if you are a clean freak and maintain good personal hygiene but still find acne popping out of nowhere!
It is just your hormones playing tricks with your body and this might happen because your mind is being subjected to immense stress levels.
Find a nice personal hobby that relaxes you and make some time for it while following this wonderful natural remedy to fight acne.
Ingredients Required
Turmeric – Two teaspoons
Rosewater – Two teaspoons
Yogurt – One teaspoon
How To Apply?
Mix all the ingredients to make a smooth paste.
Apply this wherever the acne has shown up and let it remain for half an hour.
You can also apply this before you go to sleep and leave it overnight. Rinse it off the next day in the morning.
Apply this on alternate days till you see your acne slowly disappearing.
2. How To Use Turmeric For Dry And Itchy Skin?
Dry skin can be so annoying and troublesome, especially during the winters. It may cause uncontrollable itchiness that does not easily go away.
All you need to do is find the best ingredient like turmeric that reduces inflammation and itchiness.
Ingredients Required
Turmeric – One tablespoon
Almond oil – One teaspoon
Rosewater – Two teaspoon
Lemon juice – One teaspoon
How To Apply?
Mix the above-mentioned ingredients to prepare a face pack. You can change the quantities so that the face pack is thick enough to be applied.
Apply this all over the dry areas of your skin, especially over your face.
Wait until the mixture gets dried after which you can rinse it off with cold water. Avoid using hot water as this may strip off the natural oils from your skin and make it even drier.
Since your skin is of a dry type, you must essentially apply a moisturizer soon after you wash your skin.
3. Turmeric For Blemishes And Spots
Pigmentation is really an unexplainable problem for those who are blessed with a fairer skin complexion.
Your blemishes get magnified when you step out to chill under the sun and have that perfect sun-kissed moment.
Here is the best remedy to achieve spotless skin.
Ingredients Required
Turmeric – Two tablespoons
Rosewater – Two teaspoons
Yogurt – One tablespoon
Lemon juice – Two teaspoons
How To Apply?
Prepare a smooth paste with all the ingredients that have been mentioned above and apply this evenly all over your face. It wouldn't be much beneficial if you apply the paste only on the affected areas as blemishes and spots can occur anywhere on your skin.
You can relax and please your ears with some nice music until the face pack gets dried, after which you can rinse it off with lukewarm water and pat dry.
Apply this face pack twice or thrice in a week to see your blemishes and scars eventually fading away.
4. Turmeric For Tan Removal
Taking a holiday and going on a vacation on the beachside has its own pros and cons. You will definitely enjoy the trip but return home with dull and lusterless skin. Don't worry! Here is turmeric to your rescue.
You can mix turmeric with other powerful ingredients like fuller's earth to instantly lighten up your skin and regain your natural charisma.
Ingredients Required
Turmeric – Two tablespoons
Fuller's earth – One tablespoon
Yogurt – Two teaspoons
Rosewater – One tablespoon (or as much required to form a paste)
How To Apply?
Make a smooth paste with the ingredients and apply this to the areas where your skin has developed the tan.
Let it remain for half an hour to forty-five minutes and rinse it off with lukewarm water.
If you have been looking for quick tan removal, you can follow this remedy once in three days to acquire a brighter complexion.
5. Turmeric To Remove Blackheads
Blackheads are nothing but the dirt and bacteria that has got accumulated in the pores of your skin.
If you have ever tried visiting a beauty parlor for the removal of blackheads, you could have endured unbearable pain when your blackheads get plucked.
You can instead apply this amazing face pack made out of turmeric and chickpea flour to remove your blackheads instead of undergoing a painful parlor treatment.
Ingredients Required
Turmeric – One teaspoon
Chickpea flour – One teaspoon
Lemon juice – two teaspoons
Rosewater – Two teaspoons (You can change the quantity to be added until a smooth paste is formed)
How To Apply?
Since blackheads are stubborn and never leave, one best tip that you can follow before applying this face pack is using honey and sugar scrub to rub the T-zone of your face.
Mix half teaspoon sugar in one teaspoon of honey and scrub this all along your T-zone for 20 minutes; make sure to apply a greater force while scrubbing.
Rinse your nose after you finish scrubbing and apply the face pack that is prepared by mixing all the above-mentioned ingredients.
Wait until the face pack dries up.
Do not rinse your face with water. Use your fingers to rub and scrub the mixture off your face so that it comes off in the form of powder.
After that, you can rinse your face and nourish it with a suitable moisturizer.
Follow this remedy thrice a week to get rid of blackheads in no time.
Turmeric is one powerful ingredient that helps you get rid of any type of skin problem, no matter how complex it seems.
You just have to know the right ingredients that act as an added advantage and benefit your skin in the best possible way.