The Best Squat Shoes For Your Weightlifting Sessions
The shoes you're wearing at the gym can make or break your workouts. So these are the best squat shoes to boost your weightlifting session.
Typically, when working out, factors such as location, timing, and nutrition are taken into consideration. But we rarely think about important gym accessories that have the potential to enhance our exercise routine.
For instance, many people invest in fashion-forward workout attire because it gives them that extra boost to get into the gym. Others purchase smartwatches to help track their activity levels.
Regardless of what accessories you choose, understanding what works best for you can mean the difference between enhancing your workout versus you not showing up at all.
Specifically for routine squatters, one item that should be considered a must-have is squat shoes.
As opposed to traditional shoes, squat shoes are a type of footwear that is designed to improve your hip and ankle flexibility which thus aids you to get into a lower squat.
The Best Squat Shoes
While there are many types of squat shoes, let's take a deeper look to see which ones are right for you:
1. Adidas Men's Powerlift 3.1 Cross Trainer
When people hear the brand name Adidas they are immediately reminded of a classic symbol of American athleticism. While their brand promotes a variety of merchandise, one item you don't usually see promoted is their lifting shoes.
Adidas Men's Powerlift 3.1 Cross Trainers are equipped with an anti-slip rubber sole, laced with mesh, and topped off with a top strap for security.
These shoes were specifically designed to ensure that you have the most comfortable lifting experience possible.
In addition, their anti-slip rubber sole was meant to provide you with the stability needed to push yourself to the limit.
As great as this shoe may be, reviewers have mentioned that the shoes sometimes run a bit wide, so when ordering your size you must keep that in mind.
Overall, if you are the ultimate powerlifter I would say that this shoe is a great investment. Not only do they keep you safe during heavy lift days, but they also give you the comfort you need to handle your strenuous workout routine.
2. Converse Chuck Taylor All Star High Top Sneaker
Who doesn't love Chuck Taylor's? From being featured in major films to being donned by almost everyone during their adolescence, these definitely have an aura of nostalgia. But, did you know they were also great weightlifting shoes?
One of the reasons that Chuck Taylors are great lifting shoes is because their dense rubber soles make it less likely that you will slip during or after your deadlift or squat.
Additionally, the high-top structure and laces offer an adjustable stability feature for your ankles.
Unlike other lifting shoes, Chuck Taylor's are more versatile and cheaper than their traditional counterparts. This means that if you have to rush to do something after your heavy powerlifting day, you don't necessarily have to worry about changing shoes.
On the flip side, while Chuck Taylor All-Stars are considered pretty good lifting shoes, it must be noted that they are not designed for all squat types. So, if you are an individual that drives their knees into the forward position this might not be the shoe for you.
Holistically, if you are looking for cheap lifting footwear that can get the job done, then this shoe is for you.
3. NoBull Men's Training Shoes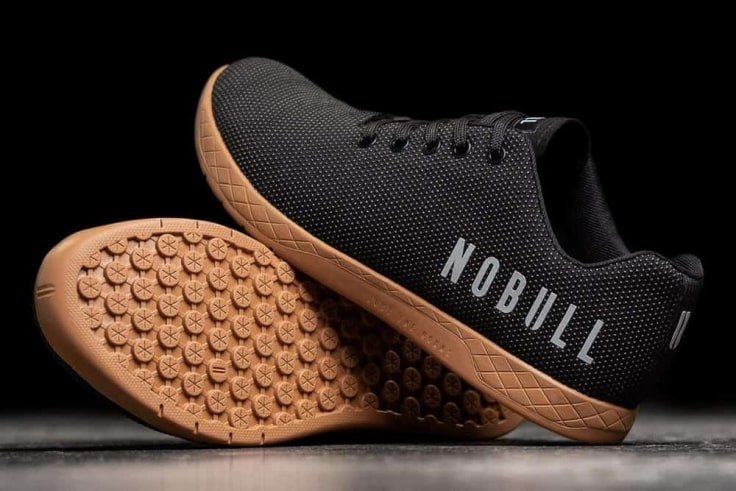 As the name implies, this shoe has "no bull" associated with its functionality. Relatively new, the NoBull men's training shoes have been a hot topic amongst lifters in the community.
Similarly, to the Converse Chuck Taylor All Star High Top sneakers mentioned before, these shoes were not necessarily designed for lifting. In fact, some say these are actually more fit for a cross-trainer.
Those who partake in a variety of different exercises would most likely benefit from this brand because its versatile enough that you won't have to keep changing footwear.
Nobull is the type of shoes that are meant to go from indoor training to outdoor training. They not only give you the support you need, but they also provide the support and stability required to complete a stable workout.
Nevertheless, while Nobull shoes are indeed quality shoes, it must be mentioned that the heel of the shoe is not raised. So this might not be the option for those with ankle mobility problems.
Bottom line, this shoe is one of the best on the market, but it is not meant for everyone.
Wearing the best squat shoes really makes a difference. When regarding your safety, stability, and overall comfort, these shoes can make or break your workout routine. Make sure to take these critics into consideration and make the right choice for you.