8 Natural Home Remedies To Remove Sun Tan From Your Skin
When you want to remove sun tan from your skin you can choose from many options available to make sure you get your naturally glowing skin back.
If you are beauty conscious, you will be skin conscious for sure. Skin is what reflects your personality, inner confidence, glow, and qualities that define you.
But do you find it hard to remove sun tan from your skin? If yes, then don't worry because there are numerous natural remedies that can help.
Be aware that chemically bleaching your skin will only hurt your skin more than the instant benefits that you will receive.
Home Remedies To Remove Sun Tan
Here are some of the most effective tips to help you get your shining and natural skin back:
1. Lemon Juice
Lemon is easily available and most of us have it stocked up in our kitchen. Lemon juice has the bleaching effects that help to remove sun tan quickly and naturally.
So if you are wondering about how to remove tan, then just go to your kitchen and use natural ingredients from there. Here is what you need to do:
Mix some fresh lemon juice with some honey and apply it to the skin.
Leave it on your skin for 30 minutes and then wash it off.
If you want to remove the dead cells from your skin surface, then you can add some sugar to the mixture and gently scrub your skin.
2. Tomato And Yogurt Paste
It may not be so appetizing for many but surely is effective for removing your tan. Yogurt has lactic acid which helps in softening the skin and tomato has rich antioxidants that can help you in brightening the skin. Here is what you need to do:
Remove the skin of raw tomato and blend it with yogurt.
Apply the paste to your skin and then wash it off after 20 minutes.
3. Cucumber Extracts
Cucumber is cool and easy in the pocket. On the other hand, it also has some really beneficial properties for your tan skin. The cooling effect of cucumber helps in removing your skin tan. This is what you should do:
Squeeze out the juice from a shredded cucumber.
Apply this juice on your skin.
Let it dry and wash. You can also add a little lemon juice in order to increase the benefits.
4. Potato Juice
Did you know that the simple potato has some amazing bleaching qualities? Potato is often used to lighten up our dark circles, but the natural bleaching effect can also be used to remove sun tan. You need to:
Juice a raw potato and apply it on the tanned skin.
While you apply the juice, you can also cut thin slices and put it on your face and eyes for even more glowing skin.
Just keep it for around 10 minutes and then wash once dry.
5. Turmeric
Turmeric is one of the most important parts of Indian cuisine. Turmeric contains more than 300 oxidants and these are beneficial for your overall health of an individual. This helps you fight skin tanning, acne, pigmentation, and so on.
All you need to do is to mix some turmeric with water, apply it on your skin and keep it there for a few minutes before rinsing it off. Use this mixture regularly to get back your skin's glow.
6. Aloe Vera Pulp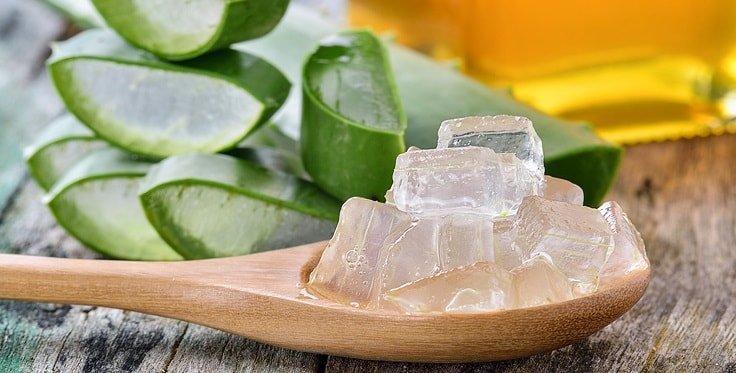 In recent years, almost every beauty expert is talking about the numerous beauty benefits of aloe vera.
This is an effective treatment option for your skin and hair problems. It is definitely one of the best cool healing agents.
Just take the pulp and apply it raw on your skin. This way you can get rid of your tan and sunburn. It also provides you a soothing skin at the same time.
7. Gram Flour
Gram flour is definitely an effective solution to remove sun tan. It also helps to remove dead cells and leaves behind healthy and glowing skin.
All that you need to do is to mix this with water and apply it on your skin. You can rinse it off once it gets dry.
On a special note here, you can also add rose water instead of regular water. This will accelerate the process of skin whitening.
8. Honey And Papaya Mixture
Papaya is rich in enzymes that are good for your skin. So why not use it directly on your skin to remove sun tan?
You can use honey with papaya to get more out of this superb combination of skin bleaching, exfoliating properties, and soothing agent.
This mixture is also rich in antioxidants that can help prevent skin aging. You just need to:
Get a ripe papaya and cut out 5 cubes of it.
Use the back of a spoon to mash it up along with a teaspoon of honey.
Mix this well until you can form a smooth paste.
Apply this mixture on your tanned skin and let it dry.
After about 30 minutes, wash it with plain water.
All of the above-mentioned items are easily available in your kitchen. So make the best use of what is available there.
Keep In Mind That Natural Is Best
When it comes to removing tan from the skin it is best to go natural. There are so many beneficial properties in natural products that there is just no need to look at chemically infused items.
Most of the creams and other solutions profess to use natural extracts from fruits and vegetables, but it is always better to use natural ingredients directly.
The best thing is that there is no fear of any side effects on your skin. So if you are looking for an effective solution to remove sun tan from the skin, make sure that you go all natural with one of the easy remedies presented in this article.