Pre-Workout Snacks To Grab On Your Way Out To The Gym
Need something to eat before hitting the gym? These delicious pre-workout snack ideas can fuel you up and boost your performance and recovery.
It's 8 am and you really want to go for a run, but you're not sure how big your breakfast should be?
Or maybe you just got out from work, and you want to have a pre-workout that won't destroy any dinner ideas and that won't make you feel too full?
You've come to the right place. These five delicious snacks will make you feel full and energized.
Best Pre-Workout Snacks
Here's a great list of pre-workout snacks, some of which you can just grab on your way out to the gym:
1. Eggs
Whether you eat just one boiled egg and a slice of toast before heading out the door, or if you have the time and energy to cook up an omelet, eggs are a very easy and affordable pre-workout snack.
You can cook them in a million ways (well, almost) and they are really rich in protein, which means they enhance the effect of your workout.
Protein not only makes you feel full for a longer time, so you don't go hungry in the middle of your bicep curl, but it also helps muscles regenerate so that your post-workout fatigue lasts a lot less.
2. Overnight Oats
This particular pre-workout snack addresses those of you who are motivated enough to work out in the morning (I envy you so much).
Here's how it's done. Before you go to bed, just throw in a jar the following ingredients, and you're set:
Half a cup of rolled oats;
2 tablespoons of chia seeds (for thickness);
2 tablespoons of almonds;
A cup of milk (or water, if you're on a calorie-restricted diet);
Some cocoa or cinnamon;
And maybe even something sweet like a banana or chopped-up dates.
By the time you wake up and get ready to rumble this tasty treat will be just ready to eat- and trust me, it won't take you more than two minutes, but it will keep you full for over 2 hours.
3. Bananas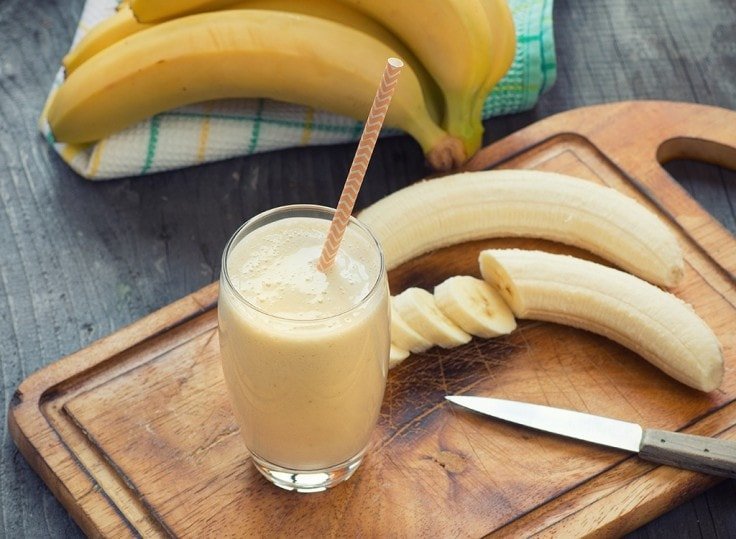 Keep it simple, silly! Right? Well if you're like me and you get hungry every couple of hours, bananas are just the right thing.
They're easy to carry with you (even in your purse, and they won't make a mess if they're not too ripe), and they are very easy to find.
This simple pre-workout snack can be bought at pretty much any store and can be kept for as long as 2 weeks.
Small trick: if you have a bunch of bananas, separate them at the stem, and you'll see they last a lot longer than when they're all part of the same bunch.
Good for your diet and figure, but also for your budget.
4. Peanut Butter Toast Sandwich
We all love PB&J, but did you know that your favorite childhood treat can be an excellent pre-workout snack?
The peanut butter contains a whopping 25 grams of protein per hundred grams, and the toast will give you that extra bit of energy from the carbs.
If you use whole bread, it's even healthier, and if you want to also replace the jam with something that your nutritionist would approve of, try honey.
5. Fruit Yogurt
No, no, this isn't what you think it is! We're not talking about store-bought, chemical-filled, sugar-overdose kind of fruit yogurt you can buy in stores!
This pre-workout snack is homemade: good for the soul and good for the pocket. Not to mention, good for your figure!
All you need to do is get a cup of yogurt (either regular or skimmed or Greek yogurt will do, whatever suits your fancy), and chop some strawberries in there, or maybe throw a handful of blackberries or blueberries, or even just mix it up with another pre-workout snack if you're in for the kill: a banana!
Got any other pre-workout snack ideas? Share them with us in the comment section below.