15 Makeup Organizer Ideas For A Small Bathroom
Looking for inventive ways to organize your makeup in a small bathroom? You'll love these 15 makeup organizer ideas.
No matter how big your house is, finding space for newly bought items (whether they're furniture, makeup, or workout clothes) is a real problem most of the time. And this is even worse for smaller places.
If you have a tiny bathroom in your one-bedroom apartment, finding space for your makeup and other beauty supplies may be an issue. The solution is easy: create more space!
But how do you make room for your precious makeup items? Well, we're gonna solve this problem with a few clever tips. Check them out below!
Makeup Organizer Ideas For Small Spaces
Here are 15 cheap and easy ways to organize and store your makeup in small spaces.
1. Shoe Organizer
This idea is super simple and works for an apartment bathroom. Grab a shoe organizer and pop in all of your makeup for an easy-to-grab and easy-to-find solution.
You can even sort your makeup items and label each pocket. It's a simple, easy, and cheap way to store your makeup items.
2. Candle Jars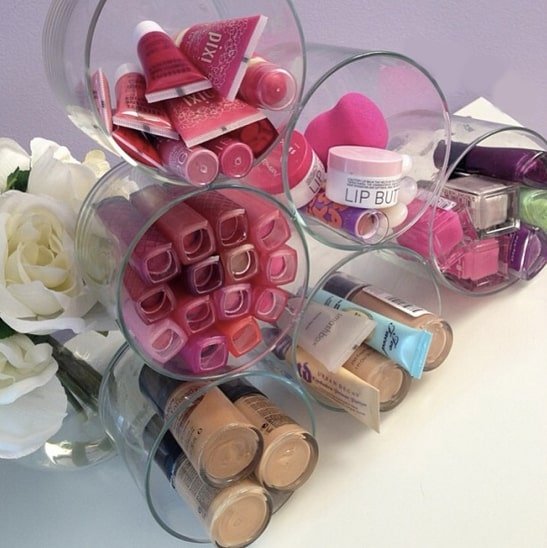 Repurpose some old candle jars and make a great makeup organizer from scratch! It will look lovely and functional atop your vanity.
Glue the candle jars on top of one another to create an elegant and clean makeup organizer.
3. Magnetic Board
Add some magnet to the mix and you will really be able to clean up those drawers and bathroom countertops.
It is stylish and perfect for those with smaller spaces. Plus, it brings your walls to life with such an awesome wall art.
4. Plant Pots
Charming plant pots work great for storing your makeup brushes. They will be easier to find too and kept around from dirty surfaces.
Just add some colorful rocks inside the plant pot and you have instant support for all your makeup brushes.
5. Cake Stand
This one might sound silly, but cake stands make another great addition to your vanity. Display your most used pieces or use it to store your nail polish collection.
If you don't have one around, you can also make a makeup stand from two old dinner plates and a clear candlestick. Just follow the instructions in the image above.
6. Small Shelves
Add some smaller shelves around the bathroom sink for extra storage and a quick-grab ability for your everyday makeup. You will love the accessibility and freedom of this idea.
7. Makeup Specific Containers
Fortunately, there are tons of makeup-specific organizational containers out there that you can choose from and use to fit your personal needs and space.
Just go ahead and search on Amazon for "makeup container". Believe me, it will be hard to get only one organizer since there are thousands of different models.
8. Hanging Organizer
You could always learn how to make a hanging organizer to hold all of your necessities. From makeup brushes to mascaras, they will all fit inside.
And if you're not very good with DIY projects, you can always use a shoe organizer from the first point in this list. 🙂
9. Sushi Mat
Who loves sushi? Well, you can now make a sushi-inspired mat for your makeup brushes. This works wonders for when it comes time to store your makeup brushes.
As you can see, it doesn't require special skills, so just follow the instructions in the video above to get your brushes organized.
10. Rotating Rack
Grab a type of lazy Susan and place your favorite products on top. You will solve your countertop clutter and grab your everyday foundation and blush in a pinch.
There are also rotating racks with two or even three levels if you have a lot of makeup items. So don't worry, there's a solution for everyone.
11. Utensil Trays
Kitchen utensil trays fit inside your drawers and help organize all of your product with ease and functionality. It looks so neat, isn't it?
12. File Organizer
File organizers are the perfect way to organize your makeup palettes. Do not have them thrown on the floor or in corners, instead align them neatly on top of your vanity.
13. Cookie Jars
Store your nail polishes, brushes, and even lipsticks in a charming cookie or candy jar; it is both functional and stylish too!
14. Mini Loaf Pan
Your mini loaf pans can come in handy in the bathroom too. Throw them in a drawer and use them to separate and organize easily.
15. Baskets
Baskets are always a good go-to, especially for extensive lipstick or nail polish collections. This way it is all in one spot but you will also be able to find what you are looking for.
Whether it is at the vanity or in the bathroom, these makeup organizer ideas will have both areas looking tidier and much more functional.