8 Brain-Boosting Foods For Memory, Focus, And Health
Brain-boosting foods that help you concentrate and improve your memory include almonds, fish, cocoa, berries, eggs, caffeine, and more. For the complete list, keep reading.
When it comes to staying alert and concentrated, eating the right foods can make a big difference, especially as we age.
What are the best brain-boosting foods? Nuts, seeds, berries, broccoli, fish, and, of course, dark chocolate are some of the most nutritious foods for our brains. There's a brain-boosting food for every taste!
The Best Brain-Boosting Foods
Below are the most powerful foods when it comes to brain health. Make sure to add them to your daily meals!
1. Nuts And Seeds
Because nuts and seeds contain antioxidants and omega-3 fatty acids they are good for your brain.
Nuts and seeds are filled with vitamin E, and this protects cells from oxidative stress and free radicals.
As we get older, our brain is exposed to oxidative stress and it needs vitamin E to support better brain health.
These are the nuts and seeds with the best concentration of vitamin E:
Almonds;
Sunflower seeds;
Hazelnuts.
Include these in your snacks, take some seeds and nuts to work, or get creative and include them in your diet by adding them to salads, or soups.
2. Oily Fish
You can consider oily fish a very good source of omega-3 fatty acids.
These fatty acids help build membranes around each of our body's cells, and this also includes the brain. Because of all this, the structure of brain cells, called neurons, is improved.
These are the oily fish that contains high levels of omega-3:
Mackerel;
Salmon;
Herring;
Tuna;
Sardines.
Don't you eat fish or just don't like its taste? There are other alternatives to getting your dose of omega-3. Soybeans, flax seeds, nuts, and other seeds can substitute the omega 3 from fish.
3. Dark Chocolate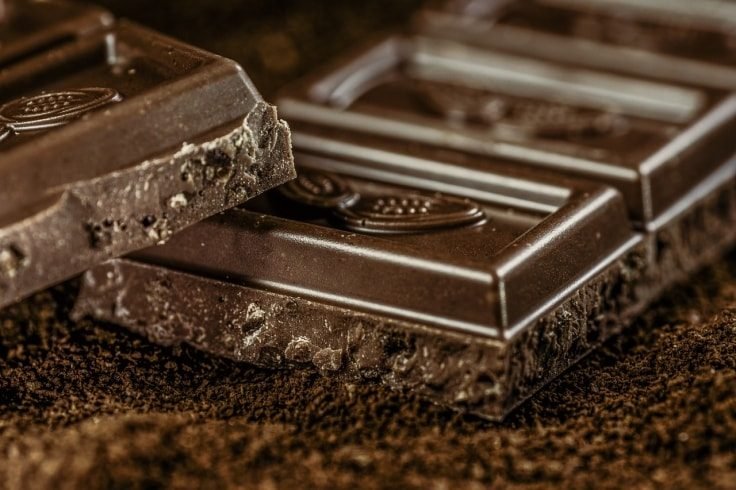 Dark chocolate is filled with cacao, which is a flavonoid that contains antioxidants.
By now, we know that our brain needs antioxidants to help it arm against certain brain diseases like Alzheimer's and other brain-aged cognitive diseases.
But this cacao flavonoid can have even more benefits for the brain. It can support blood vessels and neuron growth in the parts of the brain that are connected with learning and memory. It can even stimulate blood flow to the brain.
There are so many reasons to go and eat some dark chocolate from time to time.
The only thing you need to pay attention to is the cacao concentration in the dark chocolate. Opt for dark chocolate with at least 70% cacao.
This is the type of dark chocolate that can improve neuroplasticity which is crucial for learning and can even prove other brain-related benefits.
4. Berries
Similar to dark chocolate, berries contain flavonoid antioxidants. So they're good for your brain.
You can find a variety of antioxidants in berries, like caffeic acid, quercetin, and anthocyanin.
All these antioxidant compounds have a positive effect on the brain, such as:
Delaying or reducing the age-related cognitive decline and neurodegenerative diseases;
Decreasing inflammation throughout the body;
Improving communication between brain cells;
Boosting memory and learning.
Now that you know what berries can do for your brain, check out all the types of berries that can help you boost brain function:
Strawberries;
Blueberries;
Blackberries;
Mulberries.
5. Coffee
We all know and drink coffee because it keeps us awake and concentrated. The caffeine in your coffee blocks the production of a substance in the brain called adenosine which is responsible for making a person sleepy.
Caffeine can also increase your brain's ability to process more information.
When you consume coffee, you get a dose of antioxidants that are good for supporting brain health and even decrease the risk of certain diseases like stroke, Parkinson's disease, or Alzheimer's disease
Just be mindful when consuming coffee. Too much of it can affect your sleep, so don't overdo it.
6. Broccoli
Give broccoli a second chance because this vegetable can be good for your brain.
It is packed with plant compounds that can help with cognitive status and better memory for older people.
These plant compounds have anti-inflammatory and antioxidant effects. It can help protect the brain against age-related damage.
7. Green Tea
Green tea works similarly to your coffee when it comes to boosting brain function. It can also better memory, focus, alertness, and performance.
This tea also contains an amino acid called L-theanine which will help reduce anxiety and get you more relaxed.
With all these benefits, you can go right now and make yourself a nice cup of green tea.
8. Eggs
Eggs add several nutrients good for your brain such as vitamins B12 and B6, folate, and much more.
The vitamin Bs found in the eggs can be responsible for regulating your moods and increasing brain function and brain development.
If you have folate deficiency, dementia and any other age-related mental problems can occur. So have eggs for breakfast to keep your brain running smoothly.
The Takeaway
These foods are considered good brain boosters, but there can be more you can include in your diet that can help better brain function. Here you can include avocados, soy products, whole grain, kale, and peanuts.
As long as you have a healthy and balanced diet that includes the above brain-boosting foods, your brain should stay as healthy as possible.