15 Baking Soda Uses For Cleaning, Personal Care, And More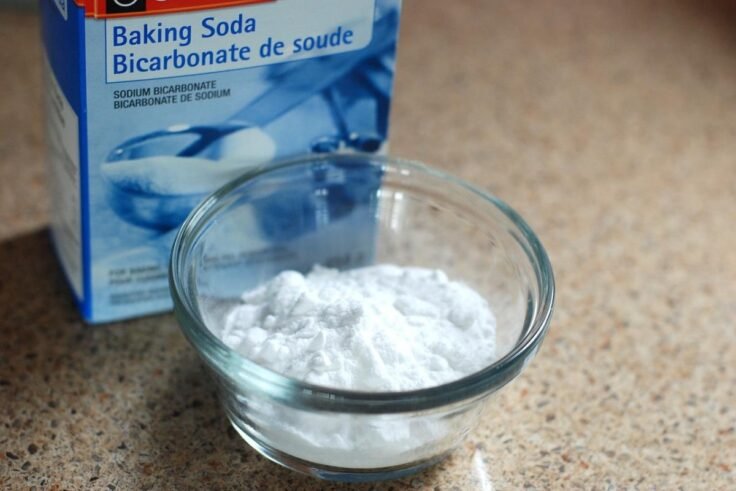 Say goodbye to a smelly fridge, hard-to-clean stoves, and even a bad breath just by using one product. Baking soda is what you need to add a little magic to your cleaning chores.
It is also a great thing to clean with if you want to use more natural products. Switch up your usual products, that are filled with chemicals and make your own scrubs.
A really good cleaning product that is also natural is just baking soda and lemon zest. You will get a fresh smell and everything will be clean.
But we are getting ahead of ourselves. Let me explain and exemplify all you need to know about this basic household product that all of us have in our kitchen.
Baking soda, also known as sodium bicarbonate, usually has limited use, only in baking. Besides adding that fluffy texture to your bread, cakes, and other baked goods, take your baking soda use to a whole new level.
Best Uses Of Baking Soda
These tips will help you implement the use of baking soda in every part of your house and even your personal hygiene. You can't even imagine how good it is to have at home some baking soda when it comes to cleaning, for example, not just for cooking.
Take a new step into a more natural and toxic-free lifestyle when it comes to cleaning products and even self-care. It is easier than you think.
Baking soda has an abrasive ability that is great for scrubbing and can also be great for getting rid of any acidic odors. You can even add some to the laundry detergents to make them more powerful when it comes to cleaning.
Check out all these tips in which baking soda can make your chores easier and it will be your go-to product from now on.
For Cleaning
The possibilities can be literally endless when it comes to cleaning using baking soda. You can make scrubs, grease-removing solutions, and even floor cleaners. Here is how all these products came together:
1. Remove Oil And Grease
Clean all the oil and grease stains from the garage by sprinkling some baking soda and water on the spot. Scrub everything with a wet brush and this way it will be easy to clean up.
2. Do A Soft Scrub
Spread some baking soda on your sink, tub, or even your tiles, then wipe everything down with a damp washcloth.
You can even make a paste just by mixing baking soda and water together and can use the mixture to clean.
3. Make A Floor Cleaner
Use a bucket of warm water and half a cup of baking soda, this will be perfect for cleaning tiled floors. This is a great alternative for any floor cleaning product.
4. Unclog Drains
Stop buying any products that are meant for unclogging the drains. Make your own just by mixing baking soda with vinegar.
5. Keep Your Fridge Smelling Fresh
Get rid of any odor in the fridge just by putting an open box of baking soda in the back of your fridge. Any bad odors will be absorbed and your fridge will smell fresh. Replace the opened box every couple of months.
For Personal Care
Well, if you only used baking soda for baking, these tips for personal care will really surprise you. See the unbelievable effect that baking soda can have outside your kitchen:
1. Use It As A Gentle Exfoliant
This is a great tip to help you get rid of any dead skin. Just mix together 3 parts of baking soda with one part of water and rub gently on your skin in a circular motion then rinse your skin clean.
2. Whiten Your Teeth
A great tip would be to add some baking soda to your regular toothpaste, every few weeks for extra cleaning. It will be perfect for polishing and whitening your teeth.
3. Ease Insect Bites Pain
Mix together water and baking soda to make a paste that you can apply to the bitten skin. Ease any pain from insect bites with this simple mixture.
4. Make A Baking Soda Mouthwash
Make your own mouthwash with half a glass of warm water and a half teaspoon of baking soda. Rinse your mouth as you would usually do with any other mouthwash.
5. Make A Natural Deodorant
This is a simple one, just put some baking soda onto your armpits to help with the odor and perspiration. But if you have sensitive skin, mix some baking soda with coconut oil and then rub it onto your armpits.
Use Baking Soda All Over The House
There can be more ways to use this awesome product, not just for cleaning or personal care. Take all the advantages out of your baking soda and use its full potential:
1. Keep Flowers Fresh For Longer
It can't get any simpler than this. Enjoy the freshly cut flowers for a longer period of time just by adding a teaspoon of baking soda into the water from the vase.
2. Keep The Ants Out Of The House
You need to mix up equal parts of baking soda and salt. Put this mixture where you see the ants coming into the house.
3. Keep Your Hands Smell-Free
Put some baking soda and water on your hands and scrub off any odor. This is a great way to get rid of the garlic or meat smell on your hands.
4. Get Rid Of The Gas From Beans
To improve digestion and neutralize any gasses from beans, just put a little baking soda into the water where you soak the beans.
5. Clean Fruits And Veggies
Feel your sink up with water and add 3 teaspoons of baking soda and add the veggies and fruits you bought from the store to the mixture. Rinse everything off with clean water and this way all the produce is extra clean.
The Takeaway
All these uses of baking soda should make you run to the store to make sure you get enough stock to try everything out.
Give everything a try and make your own natural floor cleaner, and even your homemade natural deodorant. This is not just a more sustainable and natural lifestyle but also a much cheaper one.