Lose 3 Pounds In Just A Day With The 24-Hour Diet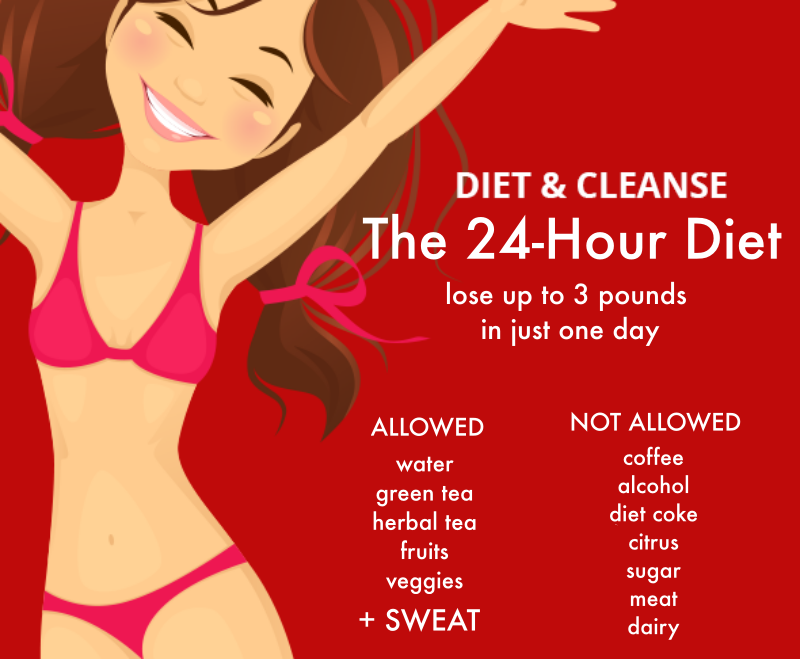 Today I'm gonna share with you a 24-hour diet plan to lose up to 3 pounds in one day. This diet is supposed to be a holiday thing, or a fast way to get your best body for a big event like the prom night, your birthday, a fancy party or for any other reason you'd have.
If your skin is prone to breakouts, if you have dandruff, if you feel moody, irritable, sluggish, this article is for you! With this program you're not losing fat, you're losing water weight and waste. You're going to get rid of all of the crud and gunk that's clinging to your intestines and makes you feel bloated, tired or moody.
24-Hour Diet Rules
This 24-hour diet is not a daily thing, it's a once in a while, like every 2-3 months. You can do this cleanse for more than one day, but I recommend only following it for a maximum of 3 consecutive days. You might want to do this in the weekend because a cleanse means you're gonna visit your toilet pretty often.
1. Drink Water
You need to drink a lot of water to flush the sugar and the toxins out. Typically if you're drinking enough water, you're going to the bathroom every 90 minutes, but when you follow the 24-hour diet you need to be going every about 45 minutes.
If you want to add some taste to the water, just cut a cucumber in your water bottle or prepare some vitamin water.
2. Drink Green, Herbal Tea
If you're asking yourself why not black tea, it's because it contains caffeine, and you're not allowed to drink caffeine for 24 hours. I know this is hardcore, but this includes coffee too.
3. Eat Cucumber
Cucumbers will help your body to restore it's alkalinity, which is good especially if you're a high sugar person.
4. Eat Only Fruits And Vegetables
You can get your nutrients from beans, tofu and nuts, which also help you to restore your alkalinity.
5. Sweat
Sweat through every method you can: high intensity cardio, steam, hot tube, sauna, jacuzzi etc. Here is where you lose almost all those 3 pounds, so sweat as much as you possibly can. Let's make that fat cry!
6. Don'ts
Here's the ugliest part of the 24-hour diet, the foods you shouldn't consume at all: alcohol, coffee, diet coke, citrus, sugar, meat, dairy.