How To Stay Fit While Working From Home
Wanna stay fit while working from home during this pandemic situation? Here are 6 tips to help you reach your fitness goals from home.
The pandemic has kept gyms closed (or at least extremely difficult to use) and people stuck in their homes for months on end now. If you're feeling fed up with the situation, you're not alone.
All of the frustration in the world, though, isn't going to magically change the situation overnight.
Instead, remote workers should do the best they can to set up their spaces to work out right from the comfort of their own home offices.
6 Ways To Stay Fit While Working From Home
Here are several of the best ways that you can stay fit while working from home:
1. Stretch Early And Often
It doesn't matter if you're just starting your fitness journey or you're training for a marathon, everyone needs to stretch regularly.
Fortunately, there are plenty of ways to incorporate stretching into a work from home lifestyle. Easy at-your-desk stretches include:
Shoulder, upper arm, and chest stretches;
Chin tucks, side neck stretches, and head turns;
Lower back stretches;
Standing thigh stretches.
In addition to basics like these, if you're seriously trying to increase your flexibility or prep for an upcoming workout, you can also add in some more advanced stretches, such as loosening up tight hip flexors.
2. Schedule In Cardio
Stretches are a good start, but you need to get moving in a much bigger way if you want to stay fit while working from home.
Getting some cardio in can feel like an impossibility when you're spending hours every day sitting in a chair, but there are actually quite a few ways that you can stay fit and healthy right at your desk, including:
Developing a cardio routine is a great way to keep your body moving, your blood pumping, and your fitness on track even in quarantine.
3. Take Breaks To Lift Weights
Breaks are an important part of work from home productivity. If you're spending your time in front of a screen doing brain work while you're working, one of the best ways to utilize your breaks is by working out.
For instance, you can create a low-volume, high-intensity muscle-strengthening routine that you can fit in multiple times each week during your breaks.
These don't have to be long (hence the low volume part) and they can be just what you need to slowly and steadily build muscle over the weeks and months ahead.
Just remember to give yourself a full 48 hours to let your muscles recover in between sessions.
4. Take The Time To Tone
Toning your muscles is another activity that's easier to do on the homefront than you might think.
Deskercise routines can already help with some of this, but if you really want to aggressively tone and tighten, it's best to do some research and come up with a tone-focused routine for each area of your body.
For example, it's very easy to pull together an at-home leg workout that focuses on basic moves like lunges and Bulgarian split squats that don't require a gym or even a dedicated workout space.
5. Track Everything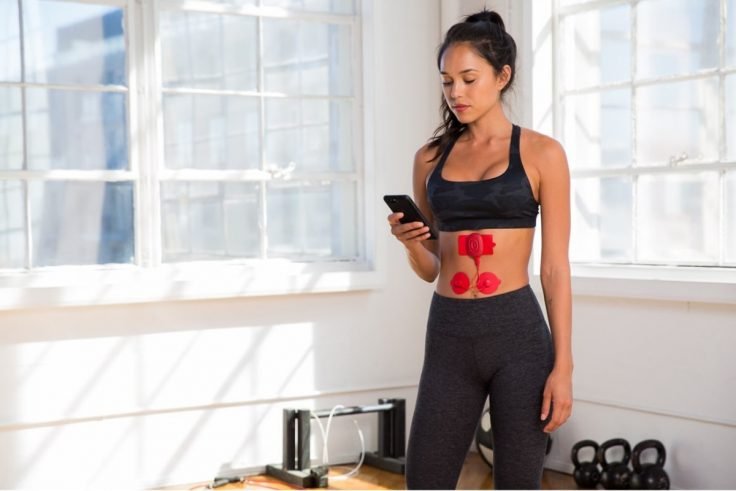 One of the key ingredients of successful homefront fitness is the ability to stay accountable. This involves multiple factors. Most importantly, you must:
Set fitness goals that are challenging, realistic, and attainable all at once.
Find an app, a smartwatch, or another wearable fitness tech tool to track your daily progress.
Get an accountability buddy to make sure you stay on the straight and narrow.
If you can create a foolproof plan to set goals, track progress, and stay accountable, you'll be able to get the most out of your work from home fitness efforts.
6. Don't Forget Your Mental Health
Finally, remember that the work from home lifestyle can be very isolating. While looking after your physical conditioning is important, your mental and emotional health should never take a back seat to your physical fitness.
Once again, there are plenty of ways to address mental health while working from home, with some of the most effective options including:
Keeping up morning routines and rituals.
Giving yourself a "virtual commute" to start and end each day.
Taking breaks regularly throughout the workday.
Unplugging from electronics regularly — and even consider a full-blown digital detox at times.
If you're going to invest in your physical fitness, it's essential that you also put the time in to maintain your brain.
Dominating Fitness While Working From Home
Working from home doesn't have to be a death sentence to your body. Sure, old routines and trips to the gym may not be practical (or even possible) at the moment, but that doesn't mean you have to throw in the towel.
From stretches and cardio to muscle strengthening and toning, it's possible to build a new workout routine that creates results right in your home office.
The key to success isn't what you have available, but rather what you're willing to do to keep your health in good order.
So pick yourself up, size up your situation, and start taking steps to stay fit while working from home.