What Should You Have On Your Healthy Eating Plate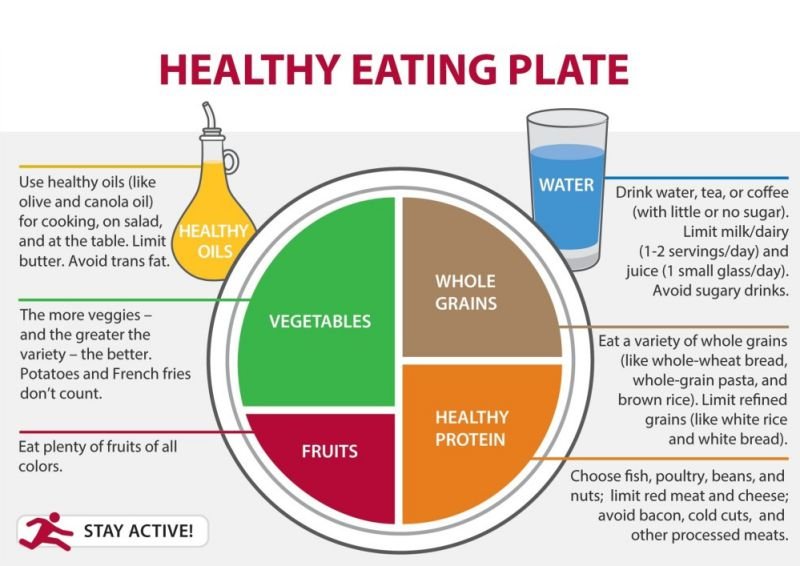 We hear a lot about how should we eat and how we shouldn't. It is well known that we need to eat more fruits, more vegetables, and less fats, but do we know how to combine them for a healthy eating plate? Here are some detailed guidance to help you make the best eating choices.
What Is On A Healthy Eating Plate?
This is a guide where you'll learn to create a healthy eating plate every time you serve your meal. To remember how to prepare balanced and healthy meals, print this article and stick it to your refrigerator.
1. Fruits And Vegetables – ½ Of The Healthy Eating Plate
Almost half of a healthy eating plate should be veggies and fruits, and the greater the variety, the better. Exclude potatoes from the healthy vegetables list.
Eat, as much as possible, different colored vegetables and fruits. For example, combine bananas with red apples and blueberry.
2. Whole Grains – ¼ Of The Healthy Eating Plate
Put whole grains on your healthy eating plate. Opt for brown rice, whole-wheat bread or whole-grain pasta. Limit, or even better cut off refined grains like white rice and white bread.
3. Proteins – ¼ Of The Healthy Eating Plate
Choose to add fish, poultry, beans and nuts to your plate. Eat less red meat and totally avoid bacon, cold cuts and other processed meats. The meat should be a quarter of each meal.
4. Healthy Plant Oils – In Moderation
A healthy eating plate should contain healthy oils for cooking, on salad, and at the table. Canola, sunflower, soy, peanut, corn and olive oils are considered healthy vegetable oils. Also limit butter and avoid oils that contain unhealthy trans fats.
Remember that low-fat does not mean healthy.
5. Drink Water, Coffee, Tea
If possible, drink only water; if not, tea or coffee without added sugar are accepted too for a healthy eating plate. Try to avoid sugary drinks and limit your daily juice and milk portion to no more than a small glass.
What Is Outside The Plate?
1. Stay Active
Even if it's not on your healthy eating plate, physical activity is also essential for maintaining a healthy weight. Try to reach 45 minutes to one hour of walking, or 30 minutes of running every day.
2. Focus On Quality
When it comes to carbs, the quality is more important than the quantity. The healthiest carbohydrates are fruits, veggies (excluding potatoes), beans and whole grains.
When it comes to food labels, avoid products with a "Low-fat" message. Even if they are promoted for decades by the USDA, most of them are not healthier than the non-fat-free product.
3. Calories In A Healthy Eating Plate
The nutrient needs and the caloric intake vary from one to another, since the level of activity, body size, fitness goal, age and gender are not the same for everyone. That's why the healthy eating plate is expressed in relative proportions of each of the food groups.
So whether your daily calorie intake is 2500 or 1500, in both cases you should have the same proportions of fruits, vegetables, proteins and whole grains on your plate.
For example, in both cases (2500 and 1500 calories per day) fruits and veggies should be 1/2 of the healthy eating plate. That means in the first case 1250 calories come from fruits and veggies, while in the second case, only 750.
4. No Alcohol
Even if it's beneficial in moderation, alcohol is not for everyone. That's why it should not be included on your healthy eating plate.
For an athletic body and a healthy lifestyle follow this model of rational servings and enjoy it every day!
Copyright © 2011, Harvard University. For more information about The Healthy Eating Plate, please see The Nutrition Source, Department of Nutrition, Harvard School of Public Health, www.thenutritionsource.org, and Harvard Health Publications, www.health.harvard.edu.
Get more like this

in your inbox
Sign up for our daily email with fitness and nutrition tips, diets and weight loss programs, health news, and more.