Gym Attire: What To Wear When Going To The Gym?
There's no question that gym attire has recently taken a life of its own in the world of fashion. Read on to learn how to dress for the gym.
With the rise of social media, no one is safe from a bad outfit day and that includes when we're at the gym.
We all want to look stylish to feel good even when exercising, so it's essential we must have some outfits prepared.
We must be thorough in our T-shirts choice to our sneakers so we can have a comfortable workout without overheating or our socks slipping.
Whether you're a newbie or an unfashionable gym junkie, here is how to dress for the gym.
The Best Materials For Your Gym Attire
Functionality and comfort are your top priority, so choose synthetic materials like nylon, acrylic, or polypropylene.
Cotton is common as it is well-priced, breathable, and comfortable. But it can weigh you down when you sweat as it holds moisture.
1. The Top
Find a T-shirt with a loose fit so your skin can breathe and get maximum movement. Avoid getting a T-shirt that is too loose because otherwise it will create friction and slow you down. Likewise, with a too-tight tank top.
Further, avoid light gray as you can spot sweat patches from a mile away. Instead, go with gray blues as this color palette is more forgiving and can work with many types of bottoms.
Cotton is great for warmer months but for your normal routine, get a polyester T-shirt because of its elasticity and breathability. It's also durable and won't shrink in the wash.
To keep your gym fashion on point, pair a T-shirt with shorts or leggings for a practical but stylish look.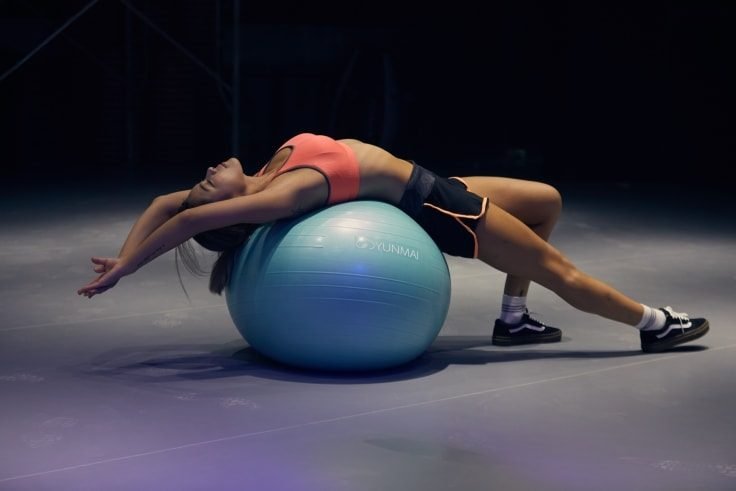 2. The Bottoms
Shorts, sweats, tracks or leggings? It depends on your workout.
So if you're doing cardio-related exercise, choose shorts as they are fitted but not snug.
Sweats are also great for fitness training as it lets your body sweat it out as it traps the heat. Or choose shorts as they are easy to move in.
Leggings are another addition to your gym attire if you are doing pilates or yoga as they are comfortable and don't snatch on anything.
3. Socks
We used to rock chunky white socks but now gym style has evolved to discreet, thinner designs.
Choose ankle socks that sit below the top of your sneaker if you're wearing shorts as they elongate your legs.
Color-wise, find white or gray socks so your feet are comfortable and can breathe.
Socks should be secure to minimize blisters and made from a breathable fabric, like acrylic or an acrylic blend to prevent an overload of sweat. Avoid cotton or wool as these retain moisture.
Also, different workouts require certain types of socks. If you're a runner, go with compression socks, and yogis should get no-slip bottoms.
4. Shoes
A sturdy pair of runners make for proper gym attire. They support your entire routine from springing into squats to lunging back and forth.
It's overwhelming deciding on the perfect running shoes as there are so many on the market so test out a few.
While at the store, try out potential shoes by walking around and jumping up and down. You should also bring along the socks you'll be wearing at the gym.
Running shoes should provide stability, motion control, and have extra padding for your runs. Ask a salesperson to find a shoe that complements the shape of your foot such as a different sized arch.
Walking shoes should allow a range of motion and cushioning whilst cross-trainers are most popular for gyms. These are for someone who runs, walks, and takes fitness classes, and must offer flexibility, cushioning, and lateral support.
Not sure of the colors? A splash of color or a print is fun. But versatile colors like black and grey work with a variety of outfits.
5. Accessories
When deciding what to wear to the gym, we must factor in accessories as they're essential to your gym attire:
Invest in a durable and stylish gym bag, either a black backpack or a duffle bag, to complete your look.
Further, pair your Fitbit Versa and dress with a stylish band to monitor your progress and stay on track.
Also, if you have long hair, find a funky headband to keep stray hairs at bay.
As getting sweaty is part of the contract, bring along a small towel you can wipe down the apparatus for the next guy and keep it clean.
6. Get A Gilet For Colder Months
If winters get too much, sometimes a jacket will not cut it. Enter: the gilet.
You get the warmth without the intensity and bulk of a jacket so you won't over-heat. Find a thin shell version in black, blue or grey to complement your kit.
7. Winder Breakers
Calling all runners who are worried about chilly mornings. Windbreakers come in a variety of styles and colors, perfect for keeping you snug as you run.
It's essential that it is lightweight and slim-fitted to keep you streamlined. You can also customize one with logos or patches so you stand out in the gym.
Or if you're a superhero movies fan, you can even get character gym clothing to make your exercising time even more interesting.
Knowing how to dress for the gym will make you comfortable and confident as you exercise.
It is essential that your clothes fit well and are breathable so there is no sweat build-up. Your shoes also should complement your feet so you can move around at ease.
Happy shopping! Did you find this article helpful? Look at our other articles on everything from mental health to HIIT workouts.