Fruit Leather Snacks With Strawberries And Cherries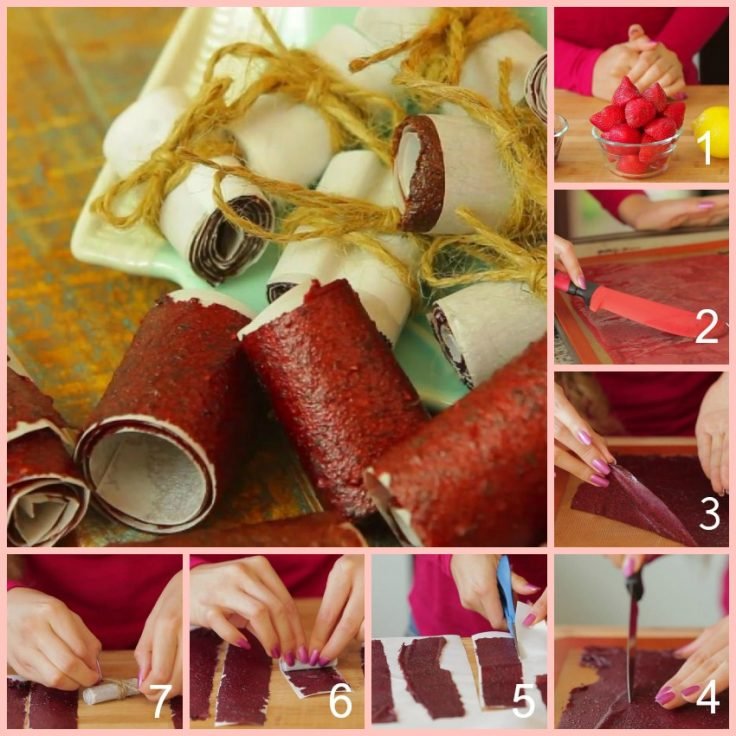 If you are looking for really easy on-the-go snack to take with you then I have the answer for you. Today we're making my childhood favourite: fruit leather snacks.
What ingredients do you need?
The ingredients we'll be needing today are:
2 cups of frozen cherries (make sure they're thawed);
1 pint of fresh strawberries;
1 tablespoon of lemon juice;
2 tablespoons of sweetener (stevia).
You'll need also a blender, a silpat and baking sheet. If you don't have a silpat it's totally OK, this recipe also works with parchment paper which you can get at the grocery store.
How to prepare the fruit leather snacks?
1. Let's go ahead and throw all these ingredients in blender.
2. After the mix is done, all you have to do is to pour on to your silpat. Make a nice thin layer because this mix must be enough for at least 3 trays.
3. Place it in the oven at 200°F  (93 °C) for about 2-3 hours.
4. Cut it slightly into 2 inch strips.
5. Carefully take your fruit leather pieces and place them on top of the parchment paper. Now that are all nicely stripped on here, just cut around them and you'll perfect the edges later.
6. Now that they're all cut we need to turn them into little rolls, which is very simple. You can roll them with the paper outside or with the fruit leather outside. They look amazing, like tiny messages of love.
Each fruit leather snack costs only $0.89 and it contains:
44 calories;
1 g protein;
2.6 g fiber;
8 g carbs;
0 g fat.
It's absolutely healthy, it's sweet and chewy and I think you should make these fruit leather snacks for all of your friends. Once you make it one time you'll have about 20 of these fruit lather snacks.
I hope you enjoy this recipe and if you do please let me know in the comments below.