Eggplant Rounds Recipe Everyone Can Make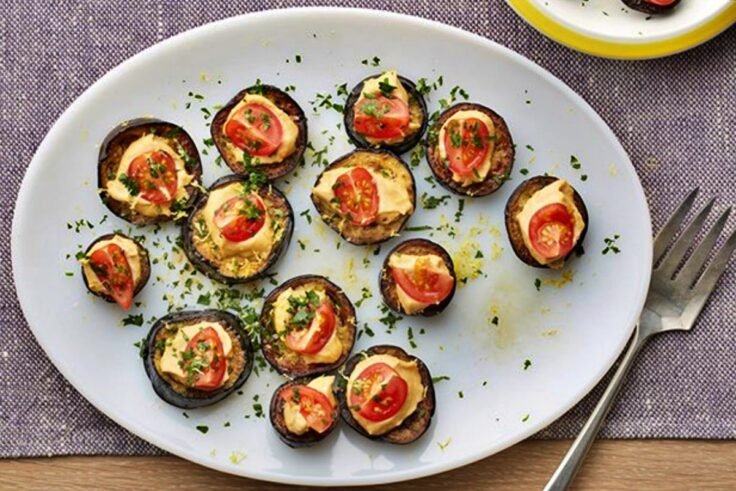 Looking for a delicious eggplant rounds recipe? Here is a middle-eastern dish packed with nutrients such as fiber, protein, and antioxidants.
Middle-Eastern Eggplant Rounds Recipe
High in protein and fiber, hummus can be more than a dip in this guest-worthy dish.
Antioxidant-rich eggplant is stacked with hummus and flavored with lemon and parsley for a fresh, low-calorie taste. This eggplant rounds recipe is very healthy and nutritious.
Ingredients:
1 tablespoon extra-virgin olive oil;
2 baby Italian eggplants (about 6 ounces each), unpeeled, cut into 8 rounds each;
Kosher salt;
1/2 cup roasted garlic hummus or other prepared hummus;
4 cherry or grape tomatoes, quartered;
2 tablespoons fresh flat-leaf parsley leaves;
1 teaspoon finely grated lemon zest.
Directions:
Heat a large nonstick skillet over medium-high heat and add the oil.
Add the eggplant rounds and season with 1/4 teaspoon salt.
Cover and cook until brown on the bottoms, about 4 minutes.
Reduce the heat to medium-low and, working quickly, flip each eggplant round and top with a dollop of hummus and a cherry tomato quarter, rounded-side down.
Cover and cook until heated through and the bottoms are golden brown, about 7 minutes.
Transfer to a platter using a spatula.
Sprinkle with the parsley and lemon zest and serve.
Per serving:
Calories: 106;
Total Fat: 7 grams;
Saturated Fat: 0.5 grams;
Protein: 2 grams;
Total Carbohydrate: 12 grams;
Sugar: 4 grams;
Fiber: 4 grams;
Cholesterol: 0 milligrams;
Sodium: 284 milligrams.
Enjoy!
Hopefully, you'll enjoy this middle-eastern recipe that's both simple and tasty at the same time.
Make sure to check our food section for more delicious, finger-licking recipes. They're all healthy, so you won't compromise your diet.