How To Get From Too-Busy-To-Be-Healthy To A Fit Mom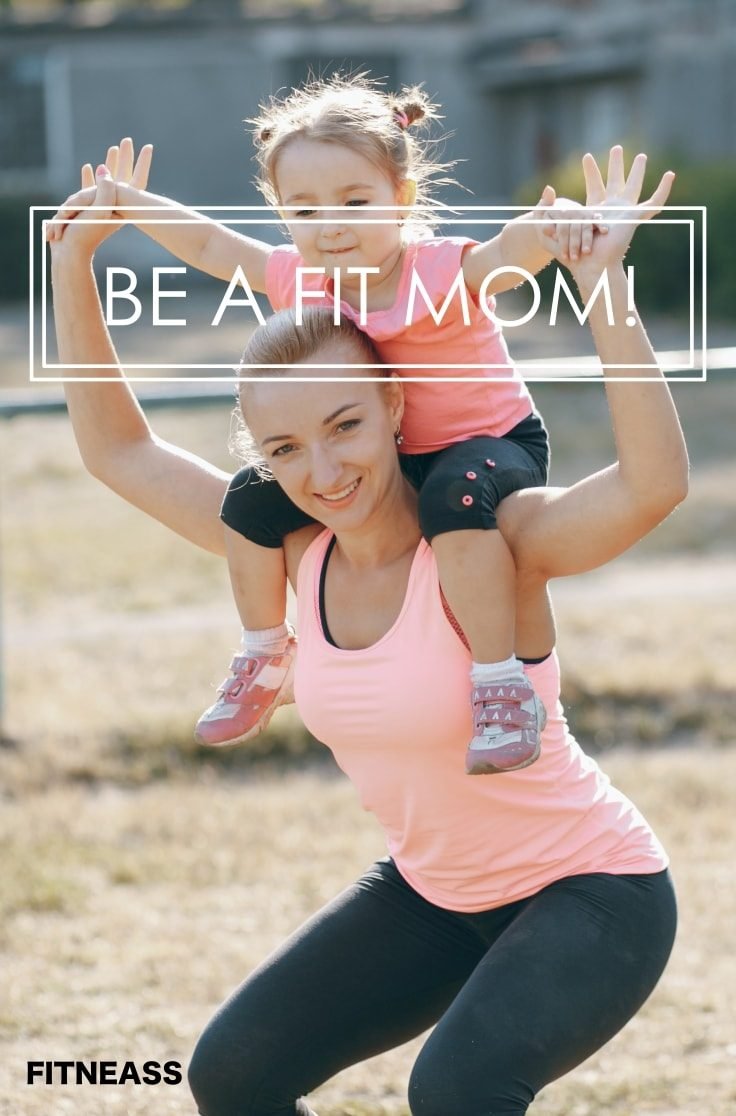 Did you just have a baby and you want to get back to your pre-pregnancy shape? Or are your kids growing and you want your waistline to stop doing the same? Whatever your reasons are, this guide will help you become a fit mom!
Start with congratulating yourself for not wanting to be the typical too-busy-to-be-healthy kind of mother, and start being a fit mom! Here's how!
4 Tips To Become A Fit Mom
Here are 4 clever tips that will help you get fit while also taking care of your kids:
1. Stay Accountable
When you're a mom, you don't let your kids skip school, or even soccer practice. So why would you let yourself skip workouts?
However, if you want to be a fit mom, you must learn to compromise. You won't always make it to the gym every Monday, Wednesday and Friday at 6 pm sharp.
Sometimes you have to stay home with the kids, sometimes you have unexpected errands to do, and so on.
The way in which you can hold yourself accountable is sticking to a certain number of workouts, or a number of minutes spent working out each week.
So for instance, if you decided to work out 4 times this week, try to find ways to sneak in your workout when your initial plan fails. Make sure you hit your target of being a fit mom for at least 4 times this week.
Change the time when you exercise if needed, or add quick workouts in small increments throughout the day.
2. Mix Things Up
It's great to plan that we're going to wake up at 5, do an hour of yoga, then wake the kids and get them ready for school.
But unless you're the kind of fit mom that gives herself an army treatment (which is OK, just not for everyone), you need to find ways around this.
For instance, sometimes your plan of going for a 6 am jog can't happen because your little one woke up seemingly caffeinated at 5 am. But you can go for your run later that day when your husband can watch them for an hour.
If that fails too, get your cardio in while involving your kids as well!
Who says you need to work out solo? Take them for a bike ride while you run along their side, or play Frisbee with them – anything, really.
Not only will you be a fit mom, but you will also be a role model. Reinforcing the idea of staying active is important for your health, and your kids will grow up with a great mindset.
3. Use Every Moment
As a mom, you are pretty much at the mercy of your kids' naps, diaper changes, belly aches, feeding times, aaand should I add more?
Well, in order to be a fit mom you need to get your exercise in. But it's kind of a luxury to get a full un-interrupted hour of workout each day like you'd want.
So the best way to make sure you stay a fit mom is to use every bit of free time. Is your kid asleep, and might be up in about 20 minutes? Do a few burpees and some squats, or some pushups (even wall pushups count!).
Time for a walk? Take your baby stroller and go for long walks. Don't be afraid to make them a little brisk and get your heart rate up. Your little one is probably going to giggle all the way, and you'll get a bit of cardio in.
4. Sleep
I know it sounds a bit counterintuitive to sleep when you want to be a fit mom. But the truth is, an active lifestyle needs sleep in order for your body to repair itself.
Even with mild exercises (not to mention the intense ones!) any fit mom should be able to get the proper amount of ZZZ's.
This will not only give you energy for staying active the next day as well (or the same day if you choose to take naps), but it will also help your body regenerate better. This means you'll be fitter, sooner!
Are you a fit mom, or do you have friends who are? Share the tips and tricks you know on how to stay a fit mom in the comments section below.