Looking For A New Blender? Here Are Some Buying Tips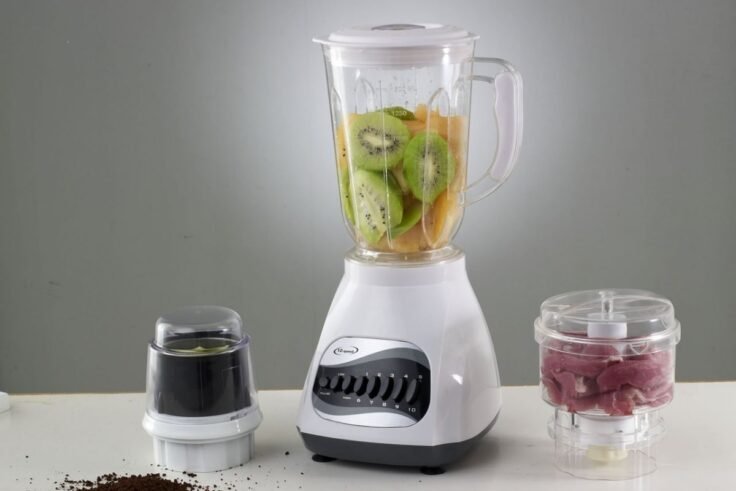 With lots of blenders on the market, it can be hard to know which one is best. Here are some clever buying tips for your new blender.
Blenders range in size from small personal models for people who just want to make smoothies or blend up some soup, all the way up to large commercial grade machines that cost thousands of dollars.
How much you spend should depend on how often you plan on using your new purchase.
More expensive models will have more power, faster speeds, and longer warranties than their less expensive counterparts.
If you're not sure what kind of blender you need, read on to learn more about what features to look for in a blender.
Blender Buying Tips
Here are the questions you need to ask yourself when looking for a new blender:
1. What Type Do You Need?
Blenders are not all built the same, and it is important to buy a model that's right for your needs. If you need a blender only occasionally, you might want to consider a personal blender.
These inexpensive models can blend one or two servings at a time, and they usually come with travel lids so you can take your smoothie or soup on the go.
If you need your own on-the-go blender, you can buy from Blendaco based in Australia, since they provide portable smoothie makers.
If, on the other hand, you want a more powerful blender for making smoothies, soups, and other recipes every day, look for a countertop or high-performance blender. These have more horsepower and can come with a lot of extra attachments.
And lastly, there's an immersion hand blender. It's a useful device to have when you need to puree something in the pot and don't want to transfer it and dirty another container.
2. What Type Of Controls Do You Want?
Most blenders give you two choices for controls: manual or digital. If you're on a budget, look for a blender that has manual controls.
These are the most basic option available, consisting of two-speed settings that you control by twisting a dial on the front of the machine.
For those looking for more options and better quality, go digital. Digital blenders give you multiple speeds to choose from as well as pre-programmed settings such as ice crush or soup puree that automatically adjust the speed and time needed to get your desired results.
3. What Kind Of Attachments Do You Need?
If you want more than just a simple blender, choose a model that comes with attachments. These can include anything from juicers and food processor bowls to locking lids for putting smoothies in your car's cup holder and taking them to work.
If you want a blender that does it all, purchase one that comes with at least four attachments.
However, if you're new to blenders and aren't sure what type of attachments you might need, it is best to purchase a model that comes with just the basic attachments.
4. What Speed And Power Do You Need?
Another important consideration is the speed and power of your blender's motor. The more powerful a blender's motor, the smoother a puree will be.
Blenders usually start at 300W and go up from there. Here are some options for power ranges:
300W – This is the power rating found on most basic countertop blenders. Except for the toughest ingredients, you'll be able to chop them all. Blending shouldn't be that difficult.
500 to 700W – Can prepare soups and go beyond liquids.
Over 700W – You can work with dry materials, such as making your own peanut butter. It also enables you to produce large quantities.
When it comes to speed, two is the standard. However, many models come with three to five speeds.
The more speeds your model has, the better you can control it. This means that if you need to make a thick puree or blend up something that's super frozen (that would stop most blenders), you'll be able to get it done without much hassle.
5. How Much Noise Do They Make?
Since a blender is going to be on your countertop, you'll want to consider how loud it is. The last thing you want is for the sound to keep you up at night or irritate any guests who might visit.
In general, blenders produce sounds that fall between 80 and 85 decibels. This is the standard across most power ranges.
There are some exceptions, however. Blenders that use metal gears can be a little louder than those that don't, you might want to consider this if it bothers you when people make noise in your house.
Also, more powerful blenders will make more noise, but some are made out of special materials that dampen noise.
6. How Much Does It Cost?
Lastly, we've come to the price. When it comes to price, you can find a good blender in any price range.
The lower-end ones are usually priced between $30 and $80. These blenders will get the job done, but you might experience problems when trying to do certain tasks.
If you don't want to break your budget, that's fine! However, you might want to pay a little extra for a few extra features.
You can get blenders in the mid-range, which typically cost between $80 and $200.
The higher-end models are usually priced above $200, but you can find some that fall below this price range if you're looking for a good deal.
Do your research and try to find the best blender for your budget. You might also be able to find some sales and discounts.
The Takeaway
In this blog post, we've covered a variety of different things to consider when you are looking for the perfect blender. But if you want a comparison with a juicer, check this post.
You can go digital or stick with a simple countertop model. There is a wide range of prices and power ratings available as well as attachments that will make your life easier if you choose to purchase one with them included.
We recommend reading through our guide before making any purchases so you know what features might be useful for your own personal needs!
Keep in mind that there is no "best" blender. It's all about personal preferences!