Healthy Asian Lunch: Egg Fried Rice Recipe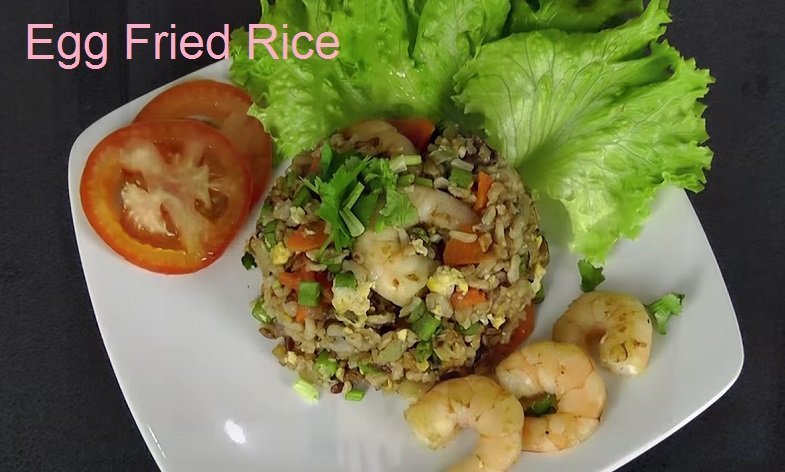 For lunch I will be sharing with you a popular Chinese take away dish: Egg Fried Rice.
Most of the time, egg fried rice made by restaurants tend to be unhealthy because they can be a little too generous with the amount of oil used.
Egg Fried Rice (2 Serves)
As for my egg fried rice recipe, we want to limit the amount of oil and just keep the ingredients really simple and fresh. I will be adding prawns in my recipe, but you can change this to another meat of your choice: chicken, beef, lamb etc. If you're a vegetarian, you may omit this or replace it with tofu.
Ingredients:
1.5 cups cooked Brown/White Rice – 320 calories;
8-10 uncooked large Prawns, peeled – 100 calories; (Or any other protein of your choice.)
1 tbsp Soy Sauce – 9 calories;
1 tbsp Olive Oil – 120 calories;
2 Garlic Cloves, minced – 8 calories;
1/2 medium Onion, diced – 22 calories;
50 g Carrots, sliced – 20 calories;
50 g Long Beans, sliced – 24 calories;
1 large Egg – 78 calories; (You can omit this if you're vegan.)
1 medium stalk Spring Onion, sliced – 5 calories;
Salt and Pepper to taste.
With these ingredients you will prepare 2 serving of 353 calories each.
Instructions: 
Heat 1/2 tbsp of olive oil over medium-high heat.
Add garlic and toss very quickly for about 10 seconds.
Add in onions. Lightly stir-fry until golden brown and fragrant.
Add shrimps and saute for 1-2 minutes until shrimps are slightly pink.
Stir in the carrots and long beans.
Cook for 3-4 minutes until vegetables are slightly soft and shrimps are pink and cooked through.
Stir in the rice, soy sauce and mix well.
Spread the rice mixture to the corner, creating a small hole in the center.
Add the remaining 1/2 tbsp of olive oil in the center of the pan.
Add the egg and scramble very quickly for about 10 seconds.
When the egg is still a little bit runny, combine it with the rice mixture. Mix well.
Stir in the spring onions and season with salt and pepper.
Remove from heat and serve!
Because it is so easy and quick to cook, egg fried rice makes a perfect lunch to go. As you can  either prep it in the morning, or the day before and bring it out with you to work or school.
Do share your favorite Asian lunch with me in the comment section below! Stay fit!