Top 10 Weird Fitness Equipments You Probably Didn't Heard Of
6. X-iser  Portable Stepper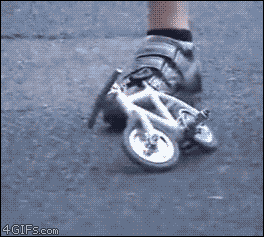 This is miniature version of one of the most common gym equipments in the world, the step machine. So tiny and compact that you can take it with you, or at least that's what the name suggests. While this does resemble a normal stepper, it looks as though everything about it is reduced in scale.
Q: Will you get a workout out of it?
A: More like half a workout.
Q: Will you have stability?
A: Not much, by the looks of it, especially since you'd have to be pretty close to a wall to make sure gravity doesn't take over, as there are no handles for support.
Q: Does it have some sort of coolness factor?
A: What is this "coolness" you speak of?…
Using this mini-stepper could actually help you shed some pounds, don't get me wrong- but even wiggling your fingers for a long enough time can burn a significant amount of calories. Anyone over the age of 5 stepping on it would look like a big guy on a tiny bike- it's possible to use and to get some kind of workout out of it, but I'm not sure I would recommend it, especially since the price range is well above average.