Get Lean And Healthy With These Summer Salads
Summer salads are a very easy way to add nutritious foods to your diet, and to shed some pounds.
And when I say salad, I don't mean rabbit food. Summer salads can be very filling even if they have a lot of vegetables, and you don't need to eat for two hours to get full.
With the simple addition of some very filling ingredients, you can have a normal-sized meal as a summer salad, and get lean and healthy.
The Most Delicious Summer Salads
Here are a few of our favorite recipes:
1. Cranberry Spinach Salad
Ingredients for 4 servings:
½ tablespoon butter;
1 tablespoon toasted sesame seeds;
1/3 cup blanched and slivered almonds;
½ tablespoon poppy seeds;
¼ cup granulated sugar;
1 teaspoon minced onion;
A dash of paprika;
¼ cup white wine vinegar and cider vinegar mixed in equal proportions;
¼ cup vegetable oil (olive oil is great for this);
½ pound spinach, rinsed and chopped into bite-size pieces (or use baby spinach to get rid of the last step);
½ cup dried cranberries.
In a medium saucepan, melt butter over medium heat and then add the almonds, which should be cooked until they are lightly toasted. Remove the saucepan from the fire and let it cool.
In a medium-sized bowl mix the sesame seeds with the poppy seeds, then add paprika, vinegar, sugar, onion, and vegetable oil.
And the last step for this summer salad is combining the spinach with the toasted almonds and cranberries in a big bowl. Right before you serve it, add the seed and oil mixture and toss it around a bit.
2. Avocado Tangerine Kale Salad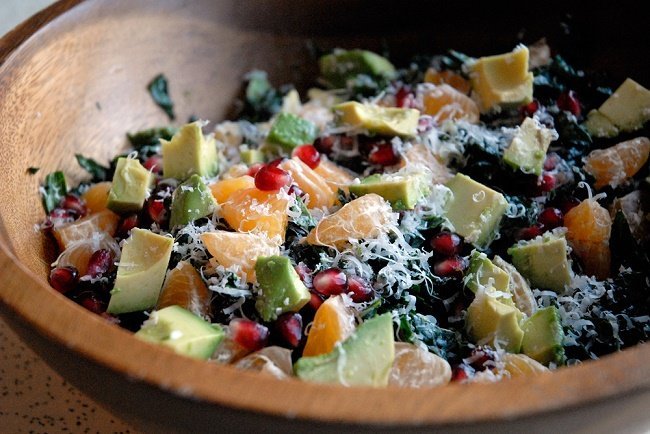 Ingredients for 2 servings:
2 ½ handfuls of chopped kale;
A handful of washed baby arugula;
One peeled and sectioned tangerine;
A sliced tomato;
One cup of diced cauliflower;
1 cup chopped scallions;
½ diced avocado;
2 tablespoons Dijon mustard;½ lemon;
1-2 tablespoons of extra virgin olive oil;
Sea salt and black pepper to taste;
A rosemary sprig or some basil leaves for garnishing.
In order to make this delicious summer salad recipe, use a large bowl and throw together the kale, tangerine, tomato, cauliflower, scallions, and avocado. The dressing is made by combining the remaining ingredients except for the rosemary or basil.
When you serve this summer salad, toss the greens and vegetables with the dressing, add the rosemary or basil leaves for garnish, and make sure to use your favorite bowls to make this even more visually appealing.
3. Roasted Tomato Salad With Mint
For 4 servings, you need only a few ingredients:
1 small sliced red onion;
1 tablespoon extra virgin olive oil;
2 pounds of cherry or grape tomatoes, but in half;
2 teaspoons finely ground unrefined sea salt;
¼ cup chopped fresh mint leaves.
This summer salad starts with roasting the tomatoes, and you do this by lining a baking sheet with parchment paper and heating the oven to 425 degrees Fahrenheit.
You arrange the tomatoes in one single layer on the baking sheet, and you drizzle some olive oil on them and sprinkle them with salt.
After you roasted them for 40-45 minutes, until the tomato juices thicken so they are about the same consistency as maple syrup, spoon the tomatoes and onion into a bowl, toss the mint in there too, and serve immediately before the mint wilts with the heat of the tomatoes.
More salad recipes:
Do you have any summer salad recipes? Share them with us using the comments section below so we can all have a healthy summer!