5 Healthy Hobbies That Are Perfect For Seniors
These 5 healthy hobbies for seniors are a safe way to get your much needed daily dose of physical activity without endangering your health.
Some workouts just don't mesh with your life right now. Social distancing makes gathering in groups impossible, and most sports are a little too risky for you.
You want to jump into an activity that will make you feel happy — not one that will send you to the doctor.
If you're at a loss about what hobby you can start in your retirement years, look at these ideas for inspiration. They're easy, healthy, and senior-friendly.
Healthy Hobbies For Seniors
Gardening, brisk walking, and light yoga poses are perfect activities for every senior over 60. They're easy on your joints, boost cardiovascular health, and help reduce anxiety and stress.
So let's see how these healthy hobbies for seniors can improve your life:
1. Swimming
Swimming is an ideal physical exercise for seniors because it has little to no impact on joints and the risk of injury is the lowest amongst all these healthy hobbies for seniors.
Because it targets all muscle groups in the body, swimming is a complete workout for everyone, not just the elderly.
You can easily get access to your local swimming pool. And most of these public swimming pools offer free access or at least huge discounts for seniors.
Some of the swimming's health benefits for older adults include:
Reducing the risk of osteoporosis;
Improving muscle tone and strength;
Increasing flexibility;
Boosting mental and heart health.
2. Gardening
Grab a pair of gloves, a wide-brimmed hat, and a trowel and start planting seeds and bulbs. If you don't have a yard, put yourself on the waitlist to join a community garden plot.
In the meantime, you can try to grow your own windowsill garden or start a collection of indoor plants. Peace Lilies, Spider Plants, and Chinese Evergreens don't need a lot of sunlight to thrive.
If you're planning on moving in the near future, consider a place that will encourage your green thumb.
One of the perks of being in these senior homes in Ottawa is that residents can join a seasonal gardening club and get their hands dirty whenever they want.
The elderly care home's independent suites have balconies, so you can enjoy your own private garden on days when you're not socializing with the club.
Some of the gardening's health benefits are:
Burning calories;
Lowering the chances of developing heart disease;
3. Walking
Walking is an excellent hobby to pick up. It's a great excuse to get off the couch and go outside to soak in the sunshine and breathe in the fresh air. It's easy on your joints.
Researchers have even found that walking adds years to your life — doing it for two and a half hours a week could increase the longevity of test subjects. That's only 20 minutes of walking per day.
Some of the walking's health benefits are:
Improving mood;
Helping cardiac health;
Lowering the risk of high blood pressure.
4. Yoga
When you picture a yoga class, you think of flexible young people doing poses that seem to defy the laws of gravity.
Luckily, yoga isn't all about intricate handstands and backbends. It's a practice that can be adapted to all ages and skill levels.
There are even chair yoga poses designed for people who have limitations with mobility and balance. This will be especially helpful for seniors with arthritis or other joint problems.
You can practice social distancing and yoga at the same time. All you need is a roll-out mat, comfortable clothes, and a computer. Watch online tutorials or join a virtual class.
Just make sure to start slow, going with beginner poses before moving onto more challenging material.
Some of yoga's health benefits include:
Decreasing stress;
Reducing inflammation;
Bettering sleep quality;
Improving balance.
5. Biking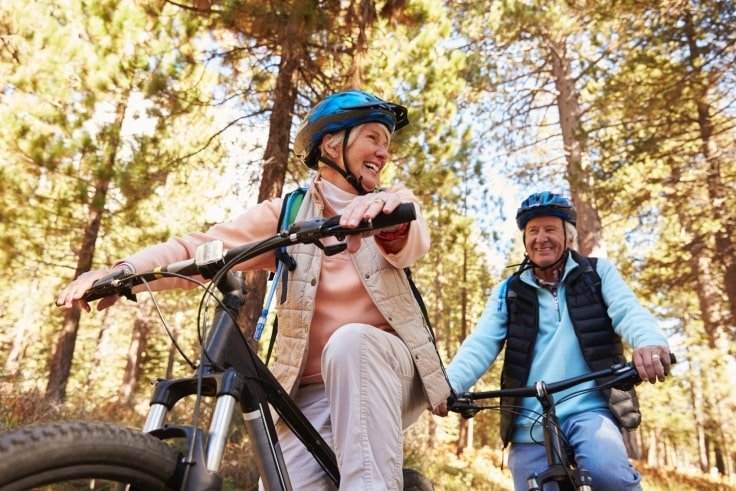 Some would say that biking for seniors isn't that safe since it makes them more prone to falls and injuries.
But biking is actually very safe for elders. In fact, over 37% of the total bikers in the US were over 60 years old, back in 2009. And since then, the trend is still uprising.
Since you're seated at all times, it's easier on knee joints and ankles than other healthy hobbies for seniors such as brisk walking or running.
Some of the biking's health benefits for the elders include:
Boosting the mood;
Decreasing stress and anxiety;
Improving cardiovascular health and blood circulation;
Strengthening leg muscles and bones.
Right now, you might feel a bit cooped up after spending weeks inside. Well, these healthy hobbies for seniors are great ways that you can occupy yourself while social distancing.
You will feel anything but bored when you're plotting your own garden, taking a scenic stroll, or doing a round of sun salutations.