101 Ways To Lose A Pound: Pick, Follow, Repeat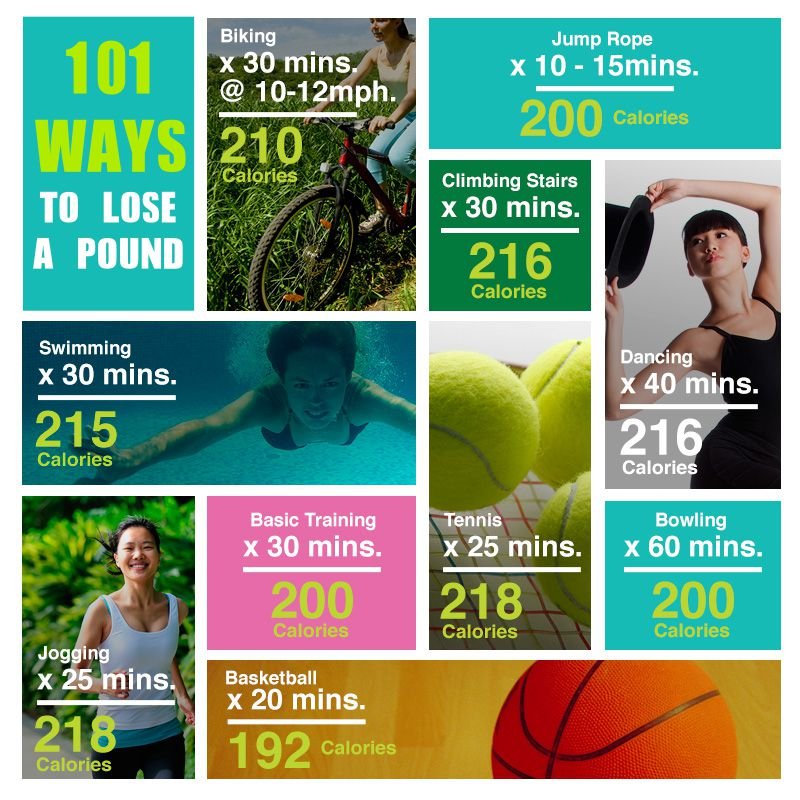 47 Ways To Lose A Pound With Food And Drink Swaps
You don't need to get rid of your favourite food/drink to lose a pound, just replace them with healthier choices. With these 13 food swaps you can cut up to 200 calories. Make 3 swaps per day and you'll lose a pound in just 6 days.
33. Ditch half of your spaghetti for spaghetti squash. It's only 42 calories per cup compared to 180 calories for the real deal.
34. Skip the burrito and order a taco salad instead.
35. Or keep the tortilla and opt for fish instead of beef.
36. Swap out eggs for egg whites when you're craving an omelette.
37. Love the Starbucks Grande Caramel Frappuccino? Skip the whole milk and whipped cream (which packs in 410 calories total) and order the Starbucks Grande Caramel Frappuccino Light which is only 140 calories. 270 calorie win!
38. Swap out brown rice or quinoa (yes, even the new super food!) which both add up to about 220 calories per cup for cauliflower or roasted peppers that are only about 30 calories per cup.
39. Enjoy fried chicken but without the skin.
40. Love a peanut butter smoothie? Try two tablespoons of powdered peanut butter instead.
41. Satisfy your sweet tooth by swapping two Reese's peanut butter cups for one mini.
42. Skip the bagel and in favor of whole-wheat toast.
43. Trade in a cappuccino for a regular a cup of Joe.
44. Switch up your ice cream dessert with fresh berries and light whipped cream.
45. Kick the fattening dressings to the curb and in favor of a balsamic vinaigrette spritzer. At only one calorie per squirt, you'll save hundreds of calories.
If you want to lose weight the healthiest way possible (slow progress), make two of these 26 easy food swaps per day to shed 20 pounds in a year. By making these healthier choices you "save" 100 calories per swap.
46. Swap half of the avocado in a 1/2 cup of guacamole for zucchini.
47. Ditch the 230 calorie-packed hamburger bun for a 134-calorie English muffin.
48. Or opt for the English muffin instead a bagel. A small bagel is at least 250 calories.
49. Take a break from chicken with tofu.
50. Swap out potatoes for cauliflower, which you can eat mashed or roasted. The healthy starch provides a day's worth of vitamin C.
51. Skip the coffee creamer and ask for nonfat milk instead.
52. We love chips, but three cups of popcorn is just as satisfying. And it's only 90 calories!
53. Try an open-face sandwich instead one with two slices of bread.
54. Take a break from mayo with mustard. It's only 10 calories per tablespoon opposed to mayo's 90 calories.
55. Forget the dried cranberries, which have added sugar, and add a half-cup of fresh berries to top off your salad.
56. When ordering sushi, request cucumber instead of white or brown rice.
57. Skip the cheese on your burger and choose lettuce and tomato instead.
58. Or switch out your beef patty for a veggie burger.
59. Replace a wrap with two low-carb whole-wheat slices of bread.
60. A serving of Snapple Lemon Iced Tea is 100 calories. Brewed, unsweetened iced tea is 0.
61. Skip the croutons in your salad. At about 10 calories apiece, we stack on at least 10 per salad.
62. Instead of a three-ounce serving of steak, try a three-ounce serving of salmon instead. Plus, you'll get a good dose of heart-healthy omega 3s.
63. Instead of a creamy soup, choose one with clear broth,
64. Put down the soda for a calorie-free glass of water. For subtle flavor, try a naturally flavored water without sugar or preservatives.
65. Love your chips and dip? Swap the Lays for a handful of veggies.
66. Jump on the kale bandwagon and swap in kale chips for potato chips.
67. Enjoy sweet ice cream, but go for ones made out of goat's milk or almond milk for half the calories.
68. Enjoy your hot chocolate with skim milk and no cream.
69. Skip the cheese straws. Enjoy a white cheddar rice cake.
70. Swap creamy cheese for tomato or veggie-based sauces on your pasta and meat dishes.
71. Switch from pouring your cereal straight from the box to using a measuring cup to cut your cereal calorie count in half.
We all love to party, and if you don't want to take it easy with alcohol (which has a lot of calories too), you might think about swapping some beverages if you want to lose some weight. Substitute these drinks for lighter versions to lose a pound without any effort in a few months.
72. Get the same taste of a Budweiser, but for a third of the calories with Bud Select 55.
73. Take a break from Blue Moon Belgian White (a 164-calorie treat) and grab a Miller Genuine Draft, which is only 64 cals.
74. Make your cosmo 100 calories skinnier by mixing a raspberry-infused vodka with club soda.
75. Here's a double whammy for you. Nitch the 270-calorie screwdriver for a 70-calorie vodka soda.
76. Swap the Coke in your "Rum and Coke" for a Diet Coke.
77. Cut your wine calories in half by opting for Chardonnay (the lightest option) as a wine spritzer — equal parts wine and soda water.
78. Out at the bar? Order a water between every drink. You'll consume half the calories.
79. Instead of a margarita, opt for tequila on the rocks with a lime wedge.